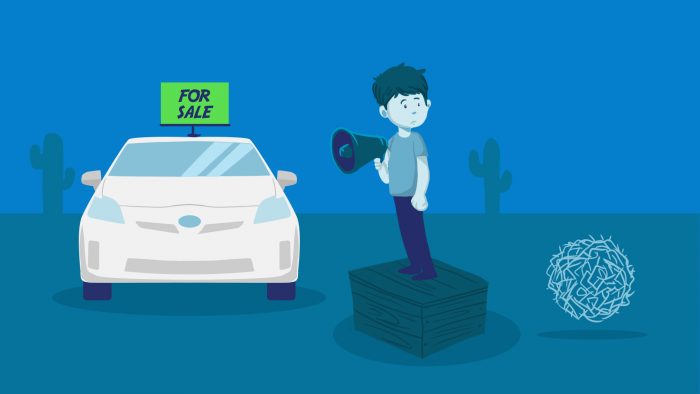 ---
Without a doubt, selling your current vehicle on your own will get you a higher price than if you went to a dealership and traded it in. When you privately sell, you can always expect to get more than the wholesale price. However, if you have a very busy schedule, don't like to meet with strangers, or aren't good with advertising and negotiating, than selling your car yourself might not be the best way to go for you. There are a lot of challenges when selling a used car on your own so you must be prepared to take those on. If this isn't a good time, then wait until it is. Remember, you'll have to go through the hassle of advertising, taking phone calls, and showing your car.
Is Your Car Marketable?
Depreciation is a fact of life, but the amount you can potentially get for your used car can drastically change from one season to the next. Luckily, there are many resources that are available to you so you can do your homework before selling your car. California-based vehicle valuation and automotive research company, Kelley Blue Book is one of the best places to look to find the annual resale value of different vehicles. Everything from current vehicle data, sales data, market conditions, local competition, and expectations for the future economy are included in this guide.
But besides analyzing the actual value of your car based on its mileage, accident report and overall condition, there is more to its marketability than you might expect. For example, if you are trying to sell a gas-guzzling SUV at a time when fuel prices are at an all-time high, you might find yourself waiting longer for a buyer to cal. However, if you live in a region where there is a lot of snow on the ground, that SUV might be in high demand! Similarly, if gas prices are extremely low, your hybrid may not seem all that exciting. And, if there's 6 inches of snow on the ground, you may find it very difficult to sell your sports car convertible. It may be a great car, and you'd probably get a ton of calls about it in the late spring, but when people are shoveling snow, they just can't think about the idea of owning a convertible. Most people make decisions based on practicality, so keep that in mind when you create your advertisements.

Do you Know How to Advertise Correctly?
Some people think that the advertising is the easiest part of selling a used car, actually, it is a major part of it. And, it's not always easy! If you have not sold a vehicle before, then you may not know all the platforms available on and off line to post classifieds. You will need to do your research and homework to be sure you advertise your used car in the best way possible. After all, selling a car is extremely time consuming and you will want to make the most of every minute you have doing it.
Take Good Pictures
Ever heard the expression, "A picture says 1000 words?" Well, it's certainly true in the case of used car buying and selling. The better and clearer your pictures are along with your advertisements, the more likely you will peak someone's interest. If your pictures are blurry or not at good angles, people may wonder what you are trying to hide.
Gather the Paperwork
Do you have all the paperwork you need? It's a good idea to have all your paperwork in order before you even start meeting with buyers. Having everything you need to finalize the transaction once you've decided to sell your used car in San Diego will make a big difference in the speed of the transaction. The California Department of Motor Vehicles requires that you provide the following documents when privately selling your vehicle:
Title Certificate: You will need to release your ownership of the car by signing the designated line on the title certificate. Lien holders, such as your bank or credit union, must also sign the title, if applicable. Hopefully, if you are selling your vehicle your name is on the title. It is much easier to sell car if you do not owe any more on it.
A Valid Smog Certificate, if applicable: If you have renewed your registration any time within the last 90 days (before the official transfer) and submitted a smog certificate while doing so, then you do not need a certificate at the time of selling your car. You will, however, need to sign a document stating this. If your used car is 4 years old or under, you are not required to provide a smog certificate to the buyer.
The Odometer Reading, if the car is less than 10 years old: This number can typically be found in a vehicle history report, but it can also either be recorded on the certificate of title or on a completed Vehicle/Vessel Transfer and Reassignment (Form REG 262) (available from the Department of Motor Vehicles in California).
Don't Get Discouraged
As mentioned, your car needs to be marketable in more ways than just the fact that it looks good and runs great. So if you put an advertisement out and you aren't getting many inquiries, try not to get discouraged. It just might not be the right time or season for your particular car. If you aren't in a rush, wait it out. Give it a few months, and when the season or gas prices changed, try again. Additionally, you might want to reconsider how and where you are doing your advertising. If one classified section on the web doesn't work, try another. Consider parking your car in a different spot or going for a print ad in a different publications. A lot of selling your car is trial and error. So the less discouraged you are and the more patient you can be, the better.

Don't Be in a Rush
Speaking of patience, while it's easier said than done, but the best time to sell a car yourself is when you have plenty of time to do it. Because you will have to do a lot of trial and error with advertising before you get calls, and because you will have to take a lot of time discussing the car over the phone and meeting with strangers about your car, you will need to have patience and take your time. Sometimes it takes weeks or even months to sell a car yourself. If you are in a rush, than you may need to put the price at a significantly lower price than its value. This is especially true if it is not a popular car, out of season (a convertible in January) or simply unmarketable. And, if that's the case, you might as well take it to a dealership for cash or trade in. They will get the job done quicker than you could possibly do yourself and you'd get the cash for your used car immediately.
Have a Good Sales Pitch
If a potential buyer makes the effort to come over and look at the used car you have for sale, then you will want to use this opportunity to make your sale pitch. The best time to inform the buyer of why your vehicle would be a good purchase for them – better than any other vehicle they may be contemplating – is during the test drive. Ask questions like:
1. What kind of car do you currently drive?
2. What are you looking for in your next vehicle?
3. Discuss any selling points from fuel economy to safety features.
Negotiate a Sales Price
Once you've shown the vehicle be sure to remind the buyer if your price is firm. If you are willing to negotiate, don't be hesitant to counteroffer if you are not satisfied with the buyer's offer. Remember, before you even start negotiating a price or even showing your vehicle, have a sale price that is slightly higher than the price for which you'll actually be selling the vehicle. Have a price in mind that is the lowest acceptable price you will take – and stick to it! Learn more about how to price your vehicle in our post "How to Value Your Car and Come Up with a Selling Price".
If you've tried selling your car yourself and haven't had much luck, then it might be time to try other ways to sell your car. Driveo in San Diego is a very easy way to sell your car. Fill out a short form online and get your offer in minutes! If you like the offer, bring your ride to us for a quick inspection and cash out. It is that easy! Compare Driveo versus selling on your own.