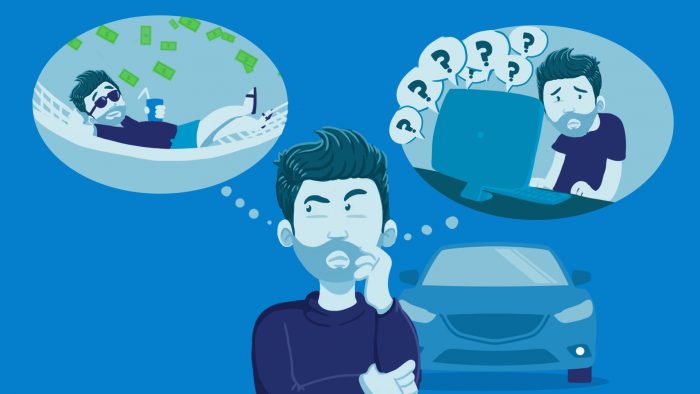 ---
So you've had your vehicle for a while, it's taken you places for years, and now you're finally ready to sell or trade it in. Perhaps you need the money, or perhaps you're looking for a new ride. Either way, it's important to know how to proceed. You have two basic options: See what you can get as a trade-in towards your next vehicle at a dealership, or sell it yourself privately. In almost every way you look at it, trading in your vehicle is the easiest, hassle-free and stress-free way to go, while selling yourself may bring you more cash. The choice is yours, so here are some advantages and disadvantages of trading and selling to help you make your decision.
Trade-in Pros
Ask anyone who as attempted to sell their car themselves and anyone who has done a trade in, and you'll quickly discover that in almost every situation, trading in a vehicle is by far the best and most convenient option. The convenience and ease of trading in far outweighs the fact that you will probably get less money for your vehicle than if you sell it yourself. When it comes to trade ins, you don't even need to worry if your vehicle is "upside down." Meaning, it has negative equity (you owe more than it's worth). If you still owe money on it, trading it in may be your only realistic option to get rid of your car. Trading in your used car means less legwork than if you sold the vehicle yourself. There is no wasting your time with advertising, taking phone calls, making appointments, meeting with strangers, and doing multiple test drives.

Trade-in Con
There really aren't many disadvantages to trading in your car (or selling it outright to a dealer) other than one significant factor – money. If pressed to choose one, perhaps the biggest drawback is that in most cases you will not get as much as if you sold it yourself. Check out Edmunds or Kelly Blue Book (KBB) and after answering a few questions about the make, model, and condition of your vehicle, you'll see three price values for your used car. The prices listed will give you price values for what you can expect to get for it as a trade-in at a dealership. You'll notice that number is lower than the other two. When you sell your car yourself, you will probably get an average of the numbers combined, which, can be significantly more than the lowest price listed. Yet, although "money talks" there's also the saying that "time is money." And if you consider the cost of not having to do the advertising, paperwork, and legwork that comes with selling your car yourself, the answer can seem pretty clear that trading in a vehicle is the way to go. The difference in cash in your pocket may be worth it to you – especially if you've tried selling your used car privately and had no luck.
Private Sale Pro
As aforementioned, despite privately selling your car being difficult, people do it because they think they will get more money than if they just traded it in. That is true, however, if your advertising and promoting skills aren't all that good, you may have trouble finding a buyer in the first place.  If you've decided to sell your car yourself, check out our guide on how to sell your car for top dollar.

Private Sale Cons
If you measure the frustrations, hassle, cost of advertising, time spent and legwork, you'll quickly discover there are many drawbacks to selling your car yourself. And if your car isn't paid off completely, you might as well forget it! You'll also need to consider the cost of repairs. Are their large maintenance repairs needed on your vehicle? If so, it may be tough to find a potential buyer. Most people won't purchase a used car unless the repairs have already been made.
Are you a salesman by nature? Are you good at advertising? If you're selling your car yourself then you should hope so! Whether you advertise in the print classifieds or online, you will need to come up with an attractive description of your car as well as good, clear pictures. Then, be patient. Depending on the demand of your car, its condition, and your advertising techniques, you may have to wait a while before you get any inquiries and even longer before you actually get your sale. The whole process can become quite stressful. Who's got time for all of that? Additionally, selling your car privately does have some risks – dealing with unhappy buyers, payment risks, scams and more (read more about private sale risks in our post: Know the Risks When You Sell Your Car Privately)
If you are thinking of selling or trading in your current car in San Diego, consider Driveo. We are the best possible alternative to selling your car yourself because we offer more than dealer trade in values and we save time it takes to sell your car yourself.  Get started or see how see how we compare to trading your car in and selling yourself.