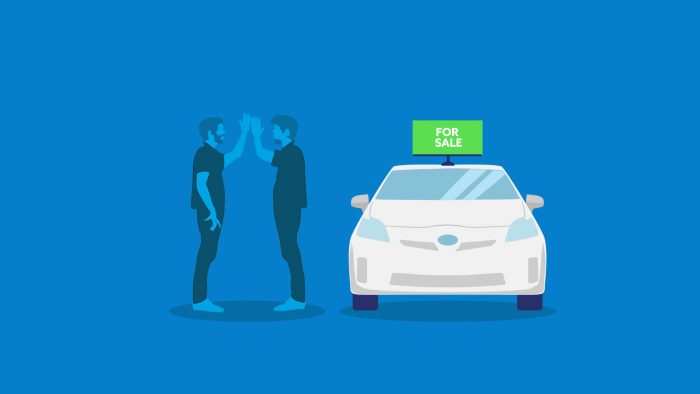 The time has come to sell your used car and buy another one. Maybe you've decided that you need a roomier vehicle, or you're commuting longer distances to and from work and want an auto that gets better gas mileage like a hybrid or even an electric car. Options on the table include selling to a friend, trading it in, or doing a private sale to a stranger. With respect to selling to someone you know, a situation may have just come up where a friend needs some reliable transportation and the timing just feels right. On the flipside, you've probably heard the old saying that you should "never do business with a friend". Weighing in the balance is the million dollar question: Should I Sell My Car to a Friend?
There are certain risks of selling your car privately, most of which can be avoided when selling to someone you know. Additionally, selling your car to a friend might seem like an easy and quick opportunity, while freeing you up for the chance to shop for a different car or getting some cash quickly avoiding the hassles. However, there is a flipside as well. One aspect to consider is that it could damage your friendship, even permanently. With that said, if you do go ahead and decide to look into selling your car, here are 3 important points to consider during the process.
---
What's the Goal if I were to Sell My Car to a Friend?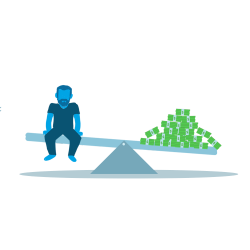 The first thing to determine is whether you're really trying to help out a friend find some reliable transportation, as opposed to you being more interested in getting the most cash for your ride or getting rid of the used car you have in a hurry so that you can buy something else. Sometimes the "a friend in need" philosophy works, and other times it doesn't. Perhaps your current car payment is something you don't want, and you're actually looking to eliminate it by selling your vehicle. Be advised that there may be several different scenarios that could play out if you find yourself considering selling it to a friend. For one, you may get more value by trading your vehicle in at a dealership or selling your car to a stranger than you would by doing so to a someone you know.
To make that determination, there are a number of resources online to help you discover the fair market value of the car you are selling. Kelly Blue Book (kbb.com) is the most-widely used, but there are also a plethora of other used vehicle resale sites like Cars.com and Autotrader.com. In any event, and before you even start thinking seriously about selling your car to a friend, find out how much it's worth in your geographic area (hint: use Driveo's step-by-step valuation method to discover what you could get for your car locally). Then compare that price with your friend's ability to pay, and how much of a hit you are willing to take if they can't afford to compensate you for what your car is actually worth. Now if your friend can get financing from a lending institution and they will cut you a check for the purchase, that's a whole different story.
You might be thinking: What if I just "gift" my used car to my friend? Well, if you're considering just simply "gifting" your car to them, and writing it off on your Federal tax return because you read somewhere that's okay, think again. A car gifted to another person is not tax deductible according to the I.R.S. because the recipient, in this case your friend, is benefitting from its use and they're not a registered charity organization. That leaves you with the options of having them buy your vehicle outright at market value, doing so at less than its market value, or even agreeing to some type of payment schedule.
Regarding the last option, a word to the wise would be to don't ever agree to accept installment payments from anyone in exchange for selling them a car. This exposes you to a number of negative outcomes that could play out. Let's consider one "real life" scenario now:
– Bill agrees to buy a 2010 Ford Taurus SE Sedan with 63,000 miles on the odometer off of Tom, and the latter agrees to sell his car to his friend for $7,500, a price within fair market value. Bill tells Tom that he is looking into financing, but that his credit is "bad" due to having to file for bankruptcy stemming from a recent divorce.
– Just before the target sale date, Bill informs Tom that his financing fell through, and that he could put a down payment of $2,500 cash towards the Taurus. He continues by explaining to his friend that he really needs the car to get to a new job, and that he'll pay Tom $250 a month until he pays off the remaining $5,000. Bill even jokes about the fact "you know where to find me, right?" Tom reluctantly agrees to the deal, and they shake on it with only a verbal agreement. Tom wants to help out his friend, with the divorce and all, and knows that Bill just got a new job at a local factory. No title or registration transfer takes place and Bill drives off with the Taurus.
– Six months later, and after making monthly installment payments totaling $1500, Bill crashes into another vehicle and totals it. The other person's car was worth $5,000 and insured by the same company Tom has. Bill is found to be at fault, and had actually allowed his policy to lapse 3 days before the accident. So Tom's own insurance company calls him up and demands a payment of $5,000 to cover the complete stranger's totaled car. In addition, Bill can't afford to pay back the remaining $3,500 he owes Tom because he has to fork over a couple grand to get the Taurus repaired. So Tom is in a financial mess all because he felt sorry for Bill and made the decision to sell his car to a friend!
So in the end, consider very carefully all options on the table and if selling a car to a friend will best suit both of your interests; especially in instances where your heart may win out over your bank account.

---
Avoid the "Blame Game" when Selling Your Car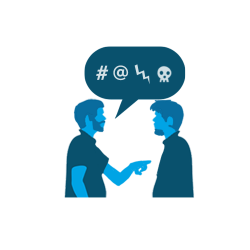 There's another wise adage out there which says: Honesty is the best policy. In the case of a business transaction between friends, most assuredly one as major as them buying a car off of you, those words ring true. For starters, how well do you know your friend? Are they the type of person who will blame you if the car you sell them breaks down a few days or weeks after the purchase? If they're someone who's prone to get angry, resentful or even vindictive based upon past actions, maybe you should reconsider letting them buy your car. And, are they the type of driver who keeps their vehicles maintained properly, or not? If they don't and something goes mechanically wrong with the car, they may get upset at you even though it's not your fault.
On the flipside, make sure that you are upfront about any mechanical issues that you've experienced with the vehicle, and in as much detail as possible. For example, if you've had some problems with the electrical system, or it leaks a little oil, tell your friend about it. Any mechanical issues, along with accidents the vehicle has been involved in, should be reported during the selling process. Another suggestion before selling any used car is to have it thoroughly inspected by a trusted mechanic, as that's something you owe any buyer before selling them your car. Also make available all maintenance and service records to them.
Ensure that the tires are also safe to drive on in all weather conditions, as that's just common courtesy, and alert your friend if the tires need to be replaced. Any potential buyer should also completely check over the car and even pay to have it inspected by a pro. In the end, when you're considering a car sale to a friend remember that honesty needs to flow two ways during the negotiation and buying process in order for you both to avoid the "blame game" and finger pointing. At the end of the day, you and your friend will come out happier and your friendship healthier when all's said and done.
---
When Selling a Car to a Friend do all Your Paperwork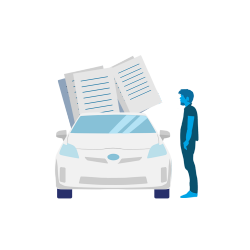 When you buy a car from a dealership, have you noticed all of the documents that you are asked to sign? There's a reason they have you do so, and this is a step that a lot of private sellers neglect, at least partially. Then later they find themselves trying to cover their tracks with the state's DMV, or learn that they're financially liable (like Tom's example above) for someone else's negligence. That said, once it appears as though you and the friend you're selling your car to are moving forward in the process, the vehicle's been inspected and a price agreed upon, make sure that all your paperwork "ducks" are in a row.
Bear in mind that private vehicle selling laws vary by state, so make sure you research the car resale requirements where you live, including contacting the DMV. When a change in ownership is taking place between a car seller and buyer, these steps need to be completed:
– Decide upon the terms of the transaction, and then write up and have both parties sign a bill of sale. Even have it notarized if you have any doubts about the buyer's character.
– Transfer the title in accordance with your state's DMV requirements. For example, in California the buyer and seller must both sign the title transfer section on the document, along with any remaining lien holders (bank, credit union, etc.). Also, the sale date and odometer reading must be recorded. In California as well, a valid smog/emission inspection certificate needs to be included with the title to the new owner for most cars more than 3 years old.
– Regarding the title transfer, both of you should ideally go together to your local DMV office. Once there, state vehicle transfer fees and applicable state sales taxes need to be paid by one of you. Will the plates be transferred, or should new ones to be issued by the DMV? It's just much simpler and efficient for you and the buyer to both be there to ensure that the transaction and vehicle transfer is conducted properly. The car's registration also needs to be transferred over to the buyer.
– You should make sure the payment method is reliable. The most trusted payments would be cash or a certified check from the buyer's bank or credit union. Accepting a personal check when selling your car to someone may not be wise, but even a certified check may pose some risk. Please our guide on accepting payment when selling a used car to learn how to manage a safe transaction.
– You as the seller need to contact your car insurance company and notify them that your vehicle has been sold to another party so that it can be immediately removed from your policy. Failure to do so opens you up to major liability issues if the new owner drives off that day and seriously injures another driver in an accident.
In summary, if you do decide to sell your car privately, following all of these paperwork steps will provide you with peace-of-mind and financial protection when their payment is safely in your hands and they drive away.

---
Some Final Thoughts on Selling a Car to a Friend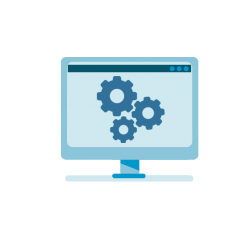 Should I sell my car privately to a friend or even a total stranger? That's certainly one of the options you have when you're looking to sell your car for one reason or another. To assist your thought processes, we've provided you with 3 key points to follow when selling a car to another driver. If you feel comfortable doing business with someone like a friend, by all means go for it. But if you are having second thoughts about selling your car to a friend or on your own at all, and are nervous about trading it in at a dealership, consider selling to Driveo instead.
Through working with hundreds of car sellers like you, we've perfected a smooth and stress-free process of selling your car so that you can quickly pop in and pop out- check in hand- within a few minutes! The offer we make will always be fair, competitive and transparent, and we'll also accept your used car just as it is. Find out for yourself today by getting a fast and convenient online quote now that's good for 30 days. In the end, your stress level will be glad you did!