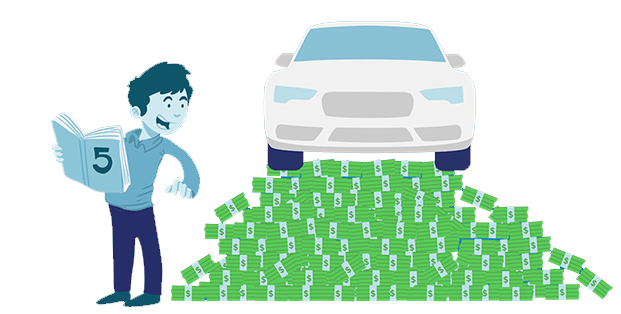 Getting more money for your car is easy with just a little bit of effort on your part. Millions of used cars are sold every year. Surprisingly, many sellers fail to maximize the potential value they could get out of their car, literally leaving a lot of cash on the table! If you are thinking of selling or trading in your car, read on to learn the five steps you can take now to to get the most out of your ride.
When you decide it's time to sell your car, there are any number of reasons why you've come to that decision. Maybe you've finally reached a point where you're ready to purchase a brand-new vehicle. Maybe you just want a slightly newer used car with fewer repair bills. Maybe you've never been happy with your current car and have just been waiting for the right time.
Whatever reasons have gotten you to this point, different people also have different priorities when selling a vehicle. Some are only asking how fast can you sell a car? Others want to get the most money for their car as they can and don't mind putting in the extra effort to do so. In this article, we're assuming your top priority is to get more money for your car. Here are the five steps you can take now:
step 1
Choosing the Right Method to Get More Money for Your Car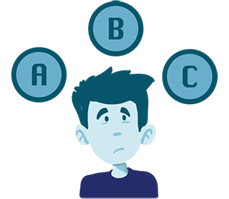 Getting more money for your car means making the right choice in how you sell it. The age-old question is this: should I trade in my car or sell it privately? But there are actually three different ways to go about selling your car: Trading it in for credit towards the purchase of your next car, selling it privately yourself, or selling it outright to a dealership or car buying service. Each one has its advantages and disadvantages. Armed with the information about the three methods, you'll be able to choose the one that is the best fit for you.
Trade-in towards your next car
If getting more money for your car is your primary goal, then trading your vehicle in for credit towards the purchase of your next vehicle is the least attractive option. If the dealership is trying to maximize their profit on the sale of each car, then the value of your trade-in has a direct impact on that profit. Some dealerships will look for anything and everything about your trade-in they can use to justify low-balling what they offer for your vehicle. This is why in the big picture, selling your car as a trade-in typically results in getting the least amount of money for it of the three methods we're examining here. Are there any advantages of trading in a car? It does tend to be fairly easy, but that's about it. If you're still planning on trading it in and you're asking yourself, how can I get the best value for my trade? Pay particular attention to steps two and three below!
Sell it privately yourself
The good news about selling your car privately yourself is that of the three methods, this is the one that almost always results in you getting more money for your car. The bad news is that it can be a lot of work, and is often a frustrating experience. After getting your car ready to sell, you have to write and post ads in various places, some of which you'll have to pay for. Then you have to spend time responding to inquiries, setting up appointments to show your car to prospective buyers, let them test drive it, and eventually negotiate the final price. All the while you have to be alert to potential scammers and all the ways they can try to fool you into giving up your car without getting the money for it you deserve. We're not saying all this to scare you away from trying to sell your car privately – lots of people do it every year without a hitch. But the risks are real and we just want you to be aware of what's involved. For more information on how to avoid the risks of selling your car yourself, read our article about common risks and liabilities when selling your car.

Sell it outright to a dealership or car buying service
Your third option for how to go about selling your car is to sell it outright to a dealership or car buying service. If you want to get significantly more money for your car than you're likely to get for it as a trade-in, but also don't want to go through all the stress and hassles of selling your car privately on your own, then this option can be your ticket to more money with less legwork on your part. What you have to keep in mind with this one, however, is that not all dealerships are created equal. Some dealerships will still make you a low-ball offer. Others have come up with an automatic quote process that sounds great, but rarely comes up with a truly competitive quote. You have to find a reputable place that will make you a solid competitive offer while also making the whole process as easy as possible for you. You should also get at least three different quotes in order to make the best decision.
Now that you know about the advantages and disadvantages of the three methods for selling your car, you can choose the one that's right for your situation. Then it's time to take a closer look at the car itself to make it more appealing to potential buyers.
step 2
Give Your Car a Makeover that Makes it Look and Feel Like New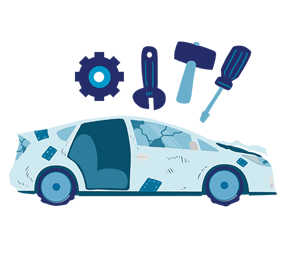 It's impossible to get more money for your car if it looks terrible. In this step we'll outline how you can give your car the kind of makeover potential buyers like to see.
Taking the time to clean up your vehicle and then keeping it that way makes a huge difference when people are looking at your car. People want to see themselves in a car that looks new even if it's not new. This is a job you can tackle yourself if you have the time and money to spend on a DIY detailing effort. Otherwise, you can choose a professional detailing shop in your area and for a couple hundred dollars have your car looking better than it has ever looked, which can result in many hundreds more in what you get for your car.
DIY Detailing
If you're the kind of person who has accumulated a lot of different car cleaning and care products over the years, then this is a really good option for you because you may not have to buy any additional specialty products. In this case, it's just a matter of spending your own time and putting some elbow grease into a DIY detailing effort.
Start your DIY detailing effort with the vehicle's interior so that all the dirt and dust you remove doesn't end up on the outside of your soon-to-be-pristine exterior. For the interior of your car, here are some things to keep in mind:
Suck it up. Start with a thorough vacuuming of the entire interior. Remove all the floor mats and don't forget to move the front seats all the way forward and then all the way back to get everything that may be lurking under the seats. If there are minor stains in the carpeting, a simple foam cleaner should do the trick. Spray a liberal amount of the cleaner on the stain, work it in with a damp sponge, let it sit a while, then blot it with a dry cloth or paper towels. Repeat if necessary. Don't leave the carpet too wet or you could develop a mildew problem. Don't forget to give a thorough cleaning to the floor mats before you put them back in.
Carpet repairs. If there are any small holes or burns in the carpeting, find an out-of-sight spot where you can cut out a piece of carpeting that won't be noticed and glue it into the offending spot with an adhesive that is water-resistant.
Clean hard surfaces. Use an all-purpose cleaner diluted with water and a damp cloth to wipe down every hard surface. Use glass cleaner for the inside windshield and rearview mirror. Use plastic cleaner on your gauge lenses if they're plastic, or glass cleaner if they're glass.
Upholstery. If you have vinyl seats, use a conditioner specifically formulated for vinyl, but not one that leaves a slippery finish. If you have leather seats, be sure to use a leather conditioner (never use vinyl cleaning products on leather). If your seats are cloth, use the same cleaning methods you used on the carpets to get the upholstery spiffed up.
Nooks and crannies. Your dashboard presents a challenge with all the tiny areas around buttons and controls. You can use a can of compressed air to blast out dirt and dust from tight spots. Toothbrushes and cotton swabs are also great for getting into all the nooks and crannies.
For the exterior of your car, keep the following in mind:
Clean wheels and tires. Start with your wheel wells which often have a lot of accumulated crud in them. Get that out with an all-purpose cleaner and a high-pressure hose. You can also spiff them up with a vinyl dressing. Next, use a brush specifically made for washing wheels to get them really clean. If your wheels are clearcoated or polished alloy, don't use any kind of acid-based cleaners on them. Only use acid-based products on alloy wheels that are rough-textured. If you have chrome wheels, make them shine with glass cleaner or metal polish. Use a whitewall tire cleaner (even if your tire walls are black) and then apply a tire dressing to give them the best look possible.
Exterior inspection. With the wheels taken care of, now give your car a general wash-down so you can then inspect the paint to see what issues may need to be addressed. Most cars have a color basecoat and then a protective clearcoat that is two or three millimeters thick. Minor visible scratches in the clearcoat can often be corrected with clearcoat-safe cleaners, clear wax or a mild polish.
Serious scratches. If you have scratches that go all the way through the clearcoat and into the color basecoat, you'll have to have those professionally repaired.
Exterior nooks and crannies. When you start looking really closely at the outside of your car, you'll find plenty of tight spots you can clean up with toothbrushes and cotton swabs.
Engine. Wrap electronic components with plastic, then use a diluted all-purpose cleaner you can spray all over. Rinse it off with water using only light pressure from your hose.
Polish/wax. Your final step is to give your car a high shine with a good waxing/polishing. If you want to buff it up with a machine, use a random orbital model to avoid burning the paint. If your car has exterior black plastic areas, avoid getting any polish or wax on those areas.
Professional detailing
If the above outline of a DIY detailing job sounds like way more than you can handle, it may be well worth your while to pay for a professional detailing job on your car. Choose a reputable detail shop by checking online reviews from Yelp, Google and other sites. Plan on paying at least a couple hundred dollars for a basic full detail that includes both your interior and exterior. You can spend more than that if you think it's worth it for a variety of added services. What you can be sure of is that your car will look its very best, and probably a lot better than you could achieve on your own.
You probably know how disappointing it is to look at a used car that hasn't been thoroughly cleaned up and detailed. You'll get more more for your car if you take the time to make your car look its very best.
step 3
Get Organized with What Buyers Want to See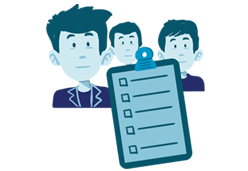 There are a number of things that buyers really want to see beyond a super-clean interior and a shiny exterior. This step is all about documentation and details. This is important if you want to get more money for your car. All you have to do is gather up the following:
All keys and remotes
Most cars have an extra set of keys, and may also have remotes or valet keys. Track them all down and have them readily available. Missing keys are always a red flag to potential buyers.
Manuals and brochures
It's always a plus if you have the owner's manual and other documentation that came with the car when it was new.
Assemble any/all service records
Do you have your own copies of all your service and repair records? If so, great! If not, it's worth your while to do whatever you can to assemble as much of this documentation as possible. Potential buyers love being able to see how well you maintained your vehicle while you had it. If you have always taken your car to the same place for regular maintenance and repairs, stop by and ask them to print out all the records they have on file. If you took your vehicle to different places, spend the extra time to contact all of them and get whatever documents you can to give as complete a picture as possible of your car's maintenance and repair history.
Vehicle history report
Potential buyers who are savvy will be on the lookout for vehicles that have been in accidents or have been totaled at some point. The easiest way to give these people peace of mind is to go ahead and get an official vehicle history report for your car. All you need to do is have your car's 17-character vehicle identification number (VIN) and then choose which vehicle history report service to use. The two major players are Carfax and AutoCheck. As of this writing, Carfax charges $39.99 for a single report while AutoCheck charges $24.99 for a single report. Either one is a small price to pay for the good feelings potential buyers will have when you provide a free copy of a vehicle history report. Carfax is generally considered the gold-standard for vehicle history reports, giving the most detail in the user-friendliest format. AutoCheck provides a good report, but you have to know more about how to interpret the information it gives you.
California smog check
In California there isn't a state inspection requirement like many states, but it is the responsibility of the seller to conduct a smog check when required. If the car is less than four years old and already registered in California, a smog check is not required. Otherwise, plan on having one done.
The title to your vehicle
People looking at your car want to see that you have the title to the car. You won't have a title to show them if you are still making loan payments on the vehicle, which is fine as long as you have a firm payoff figure from your lender to work with. If you've lost your title, visit the California DMV website to apply for a Duplicate California Certificate of Title.
Use the right forms
If you're selling your car privately yourself, the State of California requires two separate forms, one of which is a combined Bill of Sale, odometer disclosure and power of attorney called Vehicle/Vessel Transfer and Reassignment Form REG 262. This is one form you have to pick up from your nearest DMV office because it's printed on security paper to comply with federal regulations. The other form is the Notice of Transfer and Release of Liability, which can be filled out online.
Payoff amount if you have a current loan
If you still owe money on the car you're trying to sell, you need to know a current payoff amount in order to properly price and sell your vehicle so you can pay off the outstanding amount of your loan.
Cancel paid add-on services/contracts
Here's a bonus tip for you: Find your copy of the finance contract from when you first purchased your car and see what kinds of add-on services were built into the contract. You're looking for things like GAP insurance, a service contract, prepaid maintenance plan, and so on. You'll want to cancel each of those add-ons, and you should also enjoy a prorated refund on each of them as well.
There are lots of little things potential buyers want to see, and taking the time to assemble all the right documents and information will definitely help you get more money for your car. After you've gotten yourself organized with the above items, you're ready to figure out an asking price for your vehicle.
step 4
Price it Right by Knowing Your Vehicle's Value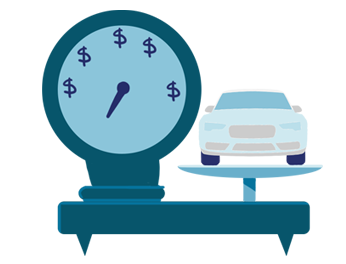 To get more money for your car, you have to be strategic in how you price it. In this step we'll explain how to do a little research that will help you price your vehicle.
In order to set the right price for your car, you'll want to have a good understanding of what your car is worth. There are any number of ways to figure out your car's value, and two of the most popular are by looking at the Kelly Blue Book Value or the Edmunds True Market Value. These are sites to which many potential car buyers turn to in order to determine if the price on a car is a good deal, so the information is geared towards buyers, not sellers, but either one is a good starting point for your pricing process. Set a price that has some negotiating room built into it, meaning you can lower the price as needed but still get what you think is a good amount.
You can also do a little sleuthing on your own by searching online for cars that are as similar as possible to yours and seeing how others in your area are pricing them. Once you have an understanding of the price range that's typical in your local market for your kind of car, you can adjust your asking price up or down from there based on a number of factors.
You can start with a higher price if your car is a high-demand vehicle. A higher price is also in order if your vehicle is still under warranty (whether original or extended) or is in better shape than most cars of a similar year, make and model. You can also set a higher price if you have service and repair records that show you've kept your vehicle well-maintained. You'll need to start with a lower price if you want to sell it fast, there are significant repairs that need to be done, or if your vehicle has ever been in an accident.
If you'd like to get a quick and accurate idea of the value of your vehicle, go ahead and get a quote from Driveo – our quotes are based on thorough market research and will help you set the ideal price for your car. And it only takes us minutes to put your quote together.
If you still owe money on an auto loan for your vehicle, the outstanding balance has nothing to do with your car's value. Many people in this situation try to set the price based on the loan payoff amount, but that number may be completely different from your car's value, so it's not that simple. People in this scenario often end up significantly overpricing their vehicle when the plain fact of the matter is the car may be worth less than what they owe on it. You can also end up underpricing your car, but that's less common.

Having a little knowledge of the used car market for your vehicle in your area goes a long way towards helping you figure out how to price your car right. If you're selling your car privately on your own, you're now ready for the final step, which is telling the world your car is for sale.
step 5
Advertise Your Vehicle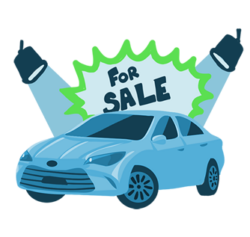 It's hard to sell your car if no one knows it's for sale, which is why advertising your vehicle is an important step, and one that you want to get right. In this step, we'll explain what information to include in an ad, where to place ads, and the importance of including plenty of photos.
Crafting the perfect ad
Writing up an effective ad for your car is more than just a laundry list of features. You want to hit all the basics, provide details on unique selling points and include the right keywords. The basics include year, make, model, mileage, transmission type, body style/category, trim package (if it makes a difference in value) and the VIN. Then cover the vehicle's condition, mention any recent work that has been done, and why you're parting with the car. Think back to when you first purchased the vehicle and why you were attracted to it – these are the unique selling points that may be relevant to many potential buyers.
Where to advertise
First of all, it's important to avoid over-advertising your car because that ends up just wasting your time and money. You only need to advertise in three or four places. Most people who are searching for used cars to buy will end up visiting multiple sites, so you don't need to be on all of them. The most popular sites include Craigslist, Autotrader, Cargurus and Cars.com. Don't bother with ebay motors – even though it used to be the number one online car sales site, Fortune magazine has written about its recent decline here. If you don't need to keep driving the car you're selling, see if your neighborhood has a place where people tend to park cars for sale so people can see them. Other local options can include your local daily newspaper or dedicated classified papers that tend to come out on a weekly basis – and yes, some people do actually still read physical newspapers!
Photos (lots and lots of photos)
One or two photos just aren't enough. Look at any dealership website and see how they post an extensive series of photographs that show the vehicle from all angles along with all kinds of detail shots both inside and out. Follow that model and your online listing will impress potential buyers. If you've got a great personality, you might even consider making a video about your car where you can be funny and charming to really draw people in.
If you follow the above advice on how to advertise your vehicle, then you'll be sure to get plenty of inquiries from potential buyers, which puts you on the road to success!
Now you have all the info you need to get more money for your car!
In today's world, information is power, and we've just provided you with the information you need to empower yourself when selling your car. Taking the five steps above is the surest pathway to getting more money for your car.
If the various steps outlined above sound like way too much work to you, then take full advantage of the best option of all – selling to Driveo! We already recommended getting multiple offers so you can choose the best of them, so be sure to get an offer from us. We believe that a truly accurate appraisal simply cannot be automated. Before we make you an offer, we have our own homework to do because we base our offers on real market research. We check book values, auction data and even compare your car to similar vehicles listed for sale in the area in order to make you an offer that is real, honest and competitive. The good news is that we have this process down to a science, which is why we can generate a quote for you in just minutes. And a Driveo offer is often as much as a $1,000 more than offers from traditional dealers and many car buying services. We'll even let you know what could get by selling it privately yourself and what you might expect for a trade-in value. In addition to a superior offer, we also do everything we can to make the process quick and stress-free, like handling all the paperwork on our end so you never have to set foot in the DMV. If you'd like to get a great price while eliminating all the stress and hassle of selling your car privately on your own, then sell it to Driveo. Get an online quote today!