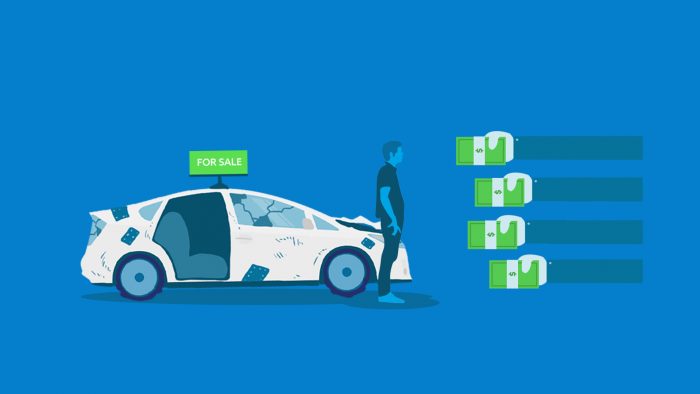 Is your car a lemon? By "lemon" we don't mean cars that fall under your state's lemon laws, which tend to be defective new cars. In this article, what we mean by "lemon" is that your car is in really bad shape. If you need to sell your lemon, what are your options?
How Bad is Your Lemon?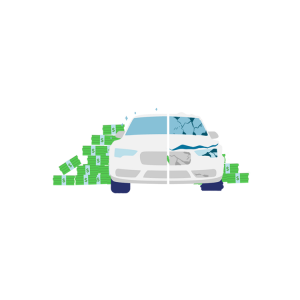 How much money you can get for your lemon totally depends on how bad off it is. You can get a sense of the value of your lemon by going to sites like Edmunds True Market Value and Kelley Blue Book Value (KBB), but you have to be brutally honest about the condition of the vehicle. On the Edmunds site, if you choose "damaged" as your condition, you'll get a message that says they can't provide a value. On the KBB site, it doesn't even give you an option to go a condition rating lower than "fair," which means if your car is in "poor" condition, you won't get a KBB figure for its value. If your car would qualify as one of these lowest condition ratings, you still have some options to get rid of the car and still realize at least some value out of it.
Scrap Your Lemon if it's in Really Bad Shape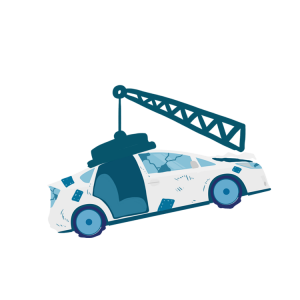 If your lemon still runs, you can always drive it to the nearest junkyard to find out what it will pay for your vehicle as scrap metal based on its weight. This pricing will vary by location, but national averages right now are between $135-$150 per ton, so you're only looking at getting several hundred dollars for it, but that's better than nothing, right? The junkyard might not scrap it right away. If there are usable parts, it will try to salvage those first before crushing and recycling it. If your lemon doesn't even run, then it will have to be towed to the junkyard and won't end up seeing much value out of it at all.
Minimum Trade-In Specials at Dealerships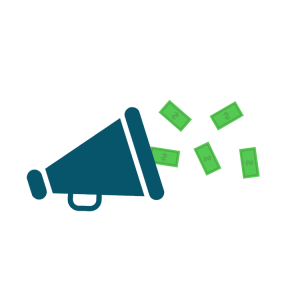 Everyone has seen those ads by dealerships that promise a minimum trade-in value for your vehicle regardless of its condition, whether it's $500, $2,500 or even more in some cases. Don't believe the hype! What's going to happen is that yes, they'll give you that amount for your trade-in, but you can be sure they're marking up the price of the new car you buy from them to cover that cost. They may even go so far as to say you're not allowed to negotiate on the price of the new car. This is all perfectly legal, so the takeaway is this: No truly reputable dealership is going to guarantee a minimum trade value regardless of condition – they have to make up the cost of that offering somewhere, and it's going to be in the price of the new car you buy from them. Read the fine print of any such deals and especially look for "purchase price is non-negotiable" in the deal they offer you for the new car.
Donate it to a Non-Profit Organization You Want to Support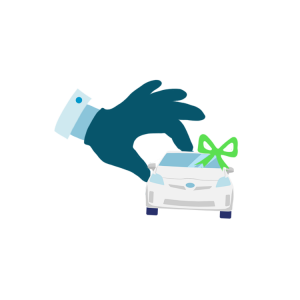 Many charities and non-profit organizations have car donation programs. The non-profit charity will come and take your car and sell it for you, typically through a broker. The organization gets to keep a portion of the proceeds of the sale while you get to take a tax deduction on the fair market value of the vehicle (not the book value). For this to work, you need to do an itemized tax return, and you also need to make sure the charity you're donating the car to is one that qualifies for tax deductible donations. A good example of a vehicle donation program is KPBS vehicle donation program.
Sell Your Lemon As Is, but do it Honestly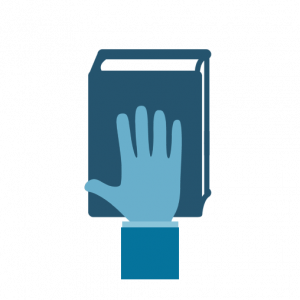 If your lemon is worth more than scrap or a donation and you want to actually get some real money for it, then your best option is to sell it privately "as is" on your own. Selling it "as is" means there is no warranty and no guarantee to the buyer as to the condition of the vehicle. But you still need to be careful because if you intentionally mislead the buyer about the condition of the car, you could wind up in court facing a lawsuit from an unhappy buyer. Honesty is definitely the best policy. You want to make sure the buyer is fully aware of any and all problems with the car so they know exactly what they're getting. If it's a lemon, call it a lemon and provide a full description. Craigslist and other online advertising sites for vehicle sales are places you can sell your lemon, but be prepared for what's in store by reading out article, Know the Risks When You Sell Your Car Privately.
Here at Driveo, we don't buy lemons, but we are always on the lookout for late-model vehicles with low miles in great shape – and we offer highly competitive prices for those kinds of cars. We typically beat what a dealership would offer you for your car as a trade-in, often by at least $1,000. And you don't have to go through hassles and headaches of trying to sell your car privately on your own. With Driveo, you can cruise in and cash out in no time. Find out what we'll pay for your by getting a fast online quote that's good for 30 days!