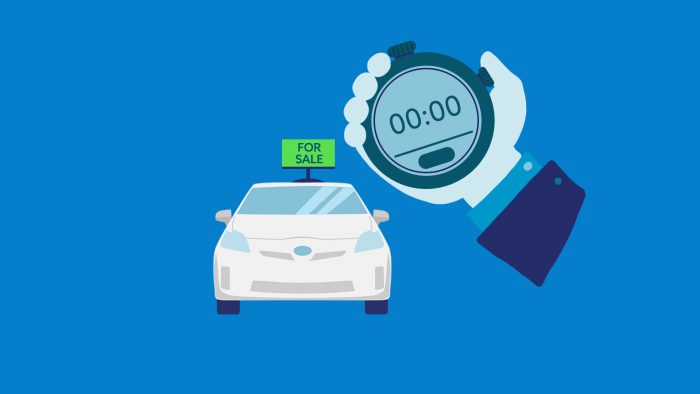 ---
In the used car industry, the average length of time it takes to sell a car is 60 days. What's important to keep in mind about this figure is that it's coming from the professionals who are in the business of selling used cars. It's reasonable to assume it might take you significantly longer to sell a car privately on your own. Of course, you might also get lucky and sell it much faster than the industry average. In reality, the actual time it takes to sell a car privately can range from a few hours to never. There are a lot of factors at play here, but if you want to sell a car privately, watch out for these 10 things that will slow you down:
---
Your Expectations are Unrealistic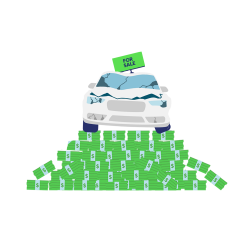 If you browse around online for advice about how to sell a car privately, you'll find information such as the average time to sell a car on Autotrader and articles that answer questions such as how long does it take to sell a car on Craigslist. You might get excited if you see articles with titles like How I Got 23 Phone Calls and 9 Emails and Sold My Car in 3 Hours on Craigslist or How to Sell Your Car Using Craigslist…I Sold Mine in One Day! But the fact that there are really only a few articles out there like these indicates they are probably exceptions to the rule. How long it takes you to sell a car is going to vary widely depending on all the factors mentioned in this article and others – like luck. You could get lucky, or you might not. The key is to make sure you go into the process with realistic expectations. If you start with the expectation that you're going to sell a car in three hours for more than your asking price, you're setting yourself up for a disappointing and frustrating experience. It would be better to go into the effort assuming it's going to take at least 4-8 weeks or longer to sell your car. If it happens faster, then you'll be pleasantly surprised.
Armed with realistic initial expectations, now you have to figure out if you have a car anyone will want to buy.

---
You're Trying to Sell a Car Nobody Wants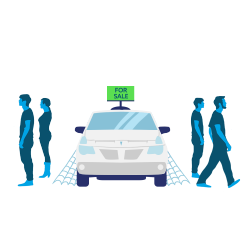 Nothing will slow you down more than trying to sell a car nobody wants. This is about makes and models that just don't interest people anymore. Take Saturn, for instance. There are still lots of Saturn vehicles on the road, but the car maker went out of business back in 2010, which means parts for repairs will only become increasingly scarce, though GM may still have some parts available. But as one Saturn owner recently posted in a forum said, "I needed to replace my 2009 Saturn Aura fuse box. Not one US dealer had it, nor did the GM warehouse. It took me a month to find one from salvage." If you're trying to sell a car which will require people to pick through junkyards for parts, don't hold your breath waiting for the big sale.
Keep in mind that used car sales tend to track with new car sales. The best-selling brand-new makes/models on dealer lots often are also the best-selling used cars, which means they will sell faster and for more money. But the same is also true for the worst-selling cars. If you want to see what you might be in for, check out Good Car Bad Car, a site that meticulously tracks auto sales data each month, such as the Top 20 Worst-Selling Vehicles in America. If the car you're trying to sell is on this list, you might want to adjust your expectations accordingly. You can also check out their year-to-date Top Sellers page and if the car you want to sell appears on that list, you might have a better chance at selling it faster.
Whether your car is on the America's least wanted list, or is a hot-selling make and model, the condition of your car also plays a major role in how long it will take you to sell it.
---
The Car is Not in Good Condition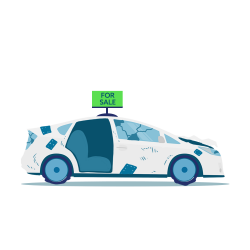 Make no mistake, the best time to sell a car is when it's still in good working order! If you've waited so long that your car is little more than piece of junk, you might as well just donate it to charity or get a little money for it from a scrap yard. This is the difference between "junking" a car and "selling" a car. If you think about it on a spectrum, where one extreme end is having a piece of junk and the other extreme end is having a car that's practically brand-new, where your vehicle falls on this spectrum will play a major role in how long it takes you to sell it. The closer you are to the "junk" end of the spectrum, the longer it's going to take you to sell a car. The only exception to this rule is if you set the price so low that it becomes appealing to some people who will buy it just for the parts. If your car is in good working condition, you want to be able to prove it to potential buyers by having service and repair records on hand. If you don't have them, it's worth tracking down as much of it as you can before you try to sell your car.
Your car may or may not be in good working order, but even if it is, you still need to figure out if has "curb appeal."
---
Your Car Lacks "Curb Appeal"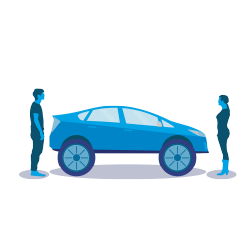 Curb appeal is a phrase typically reserved for the real estate industry, referring to what a home looks like to people looking at it from the curb. But it also applies well to selling a used car. Even though everyone knows you're selling a used car, your potential buyers want it to look like it's a new car. Give your car a quick wash-down and then really take a hard look at it. Do you think you can make it look like new on your own? If not, consider spending a couple hundred bucks to get it professionally detailed inside and out because then it will look better than it's looked in a long time and could help you get several more hundred dollars for it than you otherwise would.
If you do have the right cleaning products and have the time to put some elbow grease into it, by all means knock yourself out with a thorough DIY-detailing job. We gave pointers on how to do this in our previous article on how to get the most money for your car.
You may think your car looks like a million bucks, but that doesn't necessarily mean you can put that kind of price tag on it. Setting the right price is another key factor in how long it takes you to sell a car.

---
You Gave it the Wrong Price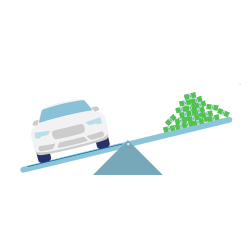 If speed is your primary concern, meaning you need to get rid of the car as quickly as possible and the money you get for it is less of a concern, then trying to sell it privately could work if people think it's a sweet deal. But you still have to sink a lot of time and effort into prepping the car to sell it, collecting all your documentation together, writing up and posting a good ad, fielding all the inquiries, setting appointments with buyers and meeting with them, test-driving, haggling over the final price, and then making sure all the legal paperwork gets done correctly to complete the transfer of ownership. Most of the time all of that simply can't or won't happen with lightning speed.
The fastest way to execute a quick sale is at a dealership or car buying service like Driveo that will handle all the paperwork for you. Many dealerships will buy your car outright at whatever they decide its trade-in value is, and that amount will be significantly less than you could get by selling privately. Good car buying services (like Driveo) will give you a better price than a dealership, but still not as much as you might get if you sell it privately.
If you've got the time to spend on trying to sell a car privately, you still have to set the right price if you don't want it to sit around for months. Learn how to price your car in our step-by-step guide on how to value your car. Alternatively, your starting point for this part of the selling process should be a site that helps you determine what your car is worth, such as the Kelly Blue Book Value or the Edmunds True Market Value. The figure you get from those sites for "private party price" is still just a starting point for figuring out the price tag you should put on the car. You should still look around on car selling sites to see what prices people are giving similar cars in your area. If you price yours a few hundred under the average of what you see others asking, you'll increase the likelihood of a faster sale. If you've got a popular model in great shape with low miles, you can probably set a price above that figure, and still sell it quickly.
While setting the right price is a major piece of the financial aspect of selling your car, even more important is whether or not you're still making payments on a car loan for it.
---
You're Still Making Car Payments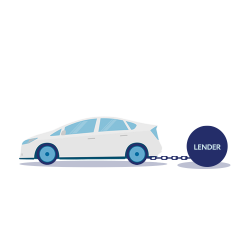 If your car isn't paid off, trying to sell it privately is going to be more complicated and take more time. For one thing, most potential buyers want you to have the title of the vehicle in hand, but if you're still making payments, your lender has the title, not you. That can be a turn-off for many potential buyers. Furthermore, if a potential buyer needs to get a car loan to buy your car, they'll be hard-pressed to find a lender who will finance them because the title is not "free and clear."
If you are still making payments for your ride, check out our step-by-step guide on how to sell a financed car that is not paid off.
---
Your Ad Sucks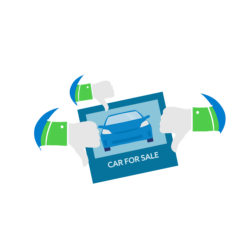 People hate wasting time on used car ads that don't give them the information they need, that are boring, that are poorly written, and so on. In short, if your ad sucks, it's not going to help you sell your car in a timely fashion. Don't let something as simple as a bad ad hold you back. It isn't rocket science, but it does take some time and effort to do it right. And yet it's surprising how many really bad ads are out there posted on places like Craigslist by people hoping to sell their cars. Here's one example of a bad ad that was recently on San Diego's Craigslist site:
CAR FOR SALE
"This car needs a new home. Sale as is. Car is in good Structural shape, clean. For test drive, we'll need one valid driver's license and one additional ID."
Notice how the title doesn't mention anything about the car, except that it's for sale. Well, obviously it's for sale or there wouldn't be an ad posted! The title of your ad should follow this format: Year, Make, Model, Trim and whatever else you can fit into 70 characters with spaces that you think will help sell it. All-caps is also a no-no because it makes the reader feel like they're being yelled at. Even in the body of the ad we still don't find out what this car for sale might be. It does appear on the right-hand side of the page which has a few key bits of information. Turns out it is a 2002 Honda Passport. But because it's not in the title, anyone who's filtering the add lists for Hondas isn't going to see this ad. Also notice how the body of the ad doesn't give you any additional information about the vehicle, like what options and features it has. The ad also doesn't mention how many miles are on the odometer, which is another huge red flag to potential buyers. The advertiser is asking $2,500 for this vehicle, which isn't much, but it's doubtful it will ever sell with an ad this bad. Here's another poor example:
Honda Civic
"2012 clean honda runs great only 69k cold ac salvage good airbags tags current till 2018 make offer"
Here's another poor title that doesn't mention the year, the trim style, or anything else that would make you want to take a closer look at this ad. At least the year is mentioned in the body of the ad, and so is the word that will make most pass this one over – "salvage." The good thing is that the seller is being honest, the bad thing is that most people won't be interested. It's hard to verify what kinds of problems the car may still experience. This ad could also use a grammar and punctuation makeover. With an asking price of $7,800, this ad isn't going to help sell this car at all.
The ad you write is important, but just as important are the pictures to go with it.
---
You Didn't Take Enough Great Pictures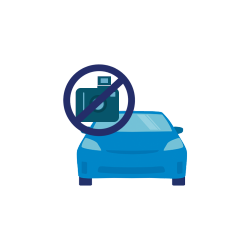 If you want your car ad to stand out and catch the attention of potential buyers, you need to provide plenty of high-quality photos that really show your car off in the best light. Don't try to hide anything in the way of flaws – you want these photos to accurately portray your vehicle so people have a good initial view of what you're offering.
Take a look at a few different professional dealership sites and look at the thorough series of photos they post for each of the used cars on their lot. That's what you should aim for with your own photos. Never post fewer than a dozen, and up to 24 is even better. When all you provide is a few low-quality photos, buyers will likely pass over your ad quickly and move on to others.
If your ad doesn't suck and you have lots of great pictures to go with it, be prepared for an onslaught of inquiries. Learn more about how to craft a smart ad and take great picture is our post on how to advertise your car.
---
You Don't Know How to Screen the Inquiries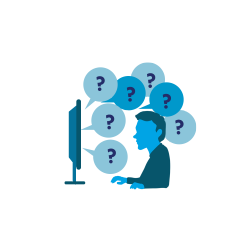 If you've got a decent vehicle at a reasonable price, you'll get lots of inquiries. In fact, you might be shocked at just how many inquiries you get. What you might not be prepared for is how many of those inquiries turn out to be time-wasters. Up to half of them might be aggressive dealers trying to see if they can get you to come way down on the price to get sweet deal. Others will be people who really aren't at all serious about actually buying your car. If you don't know how to screen these inquiries effectively, you could end up wasting a lot of valuable time with nothing to show for it.
Screening inquiries is one thing, but you also don't want to end up getting scammed when you try to sell a car privately.
---
Instead of Selling Your Car, You Get Scammed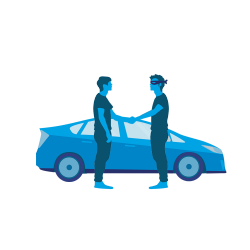 There are all kinds of tricky things scammers will try to do to take your car from you without really paying for it. Don't bother responding to any inquiries that come from overseas. These scammers will tell you they're willing to pay significantly more than your asking price if you will ship the vehicle to them in exchange for a money order from their country. This may seem like a no-brainer to you, but it's downright shocking how many people fall for these schemes.
Use your common sense. If anything feels even slightly "off," cut off contact immediately. Anyone who says they have a friend in your area who owes them money and will give you the money for the car to pay off that debt is trying to scam you. You can bet that the payment they give you won't be legitimate. It's probably a forged cashier's check or bad personal check. PayPal payments can easily be faked or quickly cancelled after you've already given up your car. The financial part of the transaction should take place in person at a bank where you can verify the transaction. And never give up the title or the car until any payment has cleared and you can see the money in your bank account. There are many other risks of selling your car privately as well.
---
Conclusion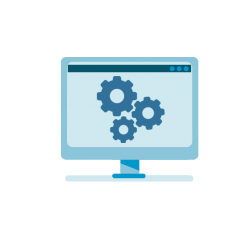 When you decide it's time to sell a car that's no longer serving your needs, how long it's going to take you to sell it depends on all of the factors mentioned in this article. While some lucky people are able to sell a car privately in a matter of hours or days, those examples tend to be few and far between. You need to have realistic expectations about the process, what's involved, and how long it will take. If all this information has you rethinking your idea of selling your car privately, consider selling it quickly and easily to Driveo. We offer very competitive prices for great cars and make the whole process incredibly smooth and fast. Get an online quote today in minutes that will be good for thirty days. With Driveo, you'll cruise in and cash out in no time!