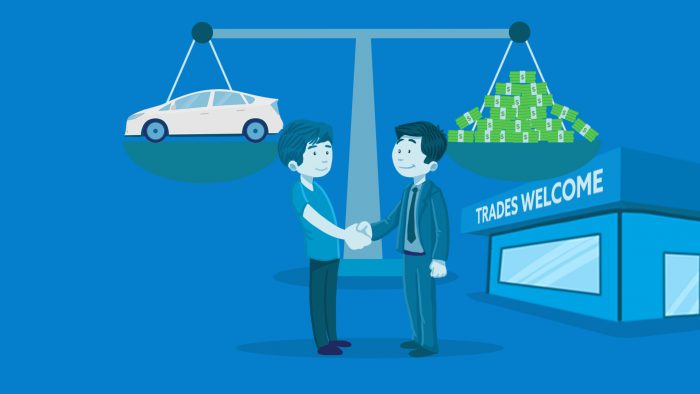 ---
When you're ready to get rid of your old car, you have two main options: trade it in at a dealership or sell it as a private seller. While you are likely to get more money by selling your car to a private party yourself, the convenience and simplicity of trading in to a dealership far outweighs doing the selling on your own in many cases.
Ask anyone who has ever had to do a trade in and they'll tell you that the convenience of arriving at a dealership with your old car and leaving with a new ride is just about as easy as it gets. If you're one of the many people who choose to go that route, the following are some options to help you maximize the value of your car and get the most out of your trade in at a dealership.

Know The Value of Your Vehicle
This may seem pretty obvious, but the first step of getting the most for your trade-in is knowing what it is worth. You can do this very easily by looking to Kelley Blue Book or other Car Guide to determine what the current value of your vehicle is in San Diego (or city where you live). By knowing the expected value of your used car before going to the dealership, you'll be better prepared for the salesman since you'll have a price in mind. When you know the value of your used car, you are less likely to be taken advantage of by the salesman. Remember that book values are important, but they are often best for getting a general idea of value. Most dealers go by recent wholesale transactions and in many cases popular cars are worth more than the book value and unpopular – less
The truth is, dealers want your used car – especially if it is in good condition. After all, at times it can be more profitable for them to take your trade-in and sell you a new car rather than simply having you outright purchase a new car from them. Why? Well, there are profit margins a dealership must observe to actually make a profit. Believe it or not, it is much more lucrative for dealerships to sell used cars than new since new cars have Manufacturer's Suggested Retail Price (MSRP) and the manufacturers set a dealer invoice price. However when it comes to used cars, salesman have a little more lead way which makes selling used car much more lucrative. With used cars, dealers pay you for your trade-in, then recondition the car with a tune-up and detailing and they are ready to sell it. Keep in mind that in order to maximize what they can potentially get for your used car, they will offer you as little as possible. This is why it is very important for you to know the Kelley Blue Book value of your car so you don't get taken advantage of.
Have all Service Papers
You've kept your car up-to-date with repairs and servicing, now it's time to show how well you've taken care of it. By having all of your car's service papers – from oil changes to minor repairs – the car dealership knows the car is in good shape. If you don't have your service papers, you can always call the mechanic or shop where your car was serviced and ask them to print off an extra copy for you.
Make Sure the Time is Right
While this isn't always an issue for every car, you may find that if you have a particular sports car or convertible, you may find that it doesn't sell as well in the winter. No one wants to buy a convertible in the winter and the same goes for a four-wheel drive vehicle. You're less likely to get a good deal on those vehicles if they are not "in season." Keep an eye on the news trends. When gas prices go up, most people are looking at hybrids, not SUVs. But when ice and snow are on the ground, you may find that your SUV or 4-wheel drive vehicle is in high demand. It's also important to keep in mind that there are two main seasons in car buying/selling – January-March because of tax returns, and August – September before the holidays.
Additionally, if you owe money on your used car you may want to wait until it is paid off or you owe much less. You put yourself in a vulnerable position with the salesperson if you owe more on the used car than it is worth.
Get Your Car Detailed
Whether you have a toddler or simply have spent the last few years eating lunch in your car (we all do it!), then it's time to get your car professionally cleaned. Take some time to vacuum, polish, de-odorize, and clean the tires of your car. You can even wash the engine (have a professional do it – carefully!) and inner wheel walls. You'll want to go through everything from the glove compartment to the door and seat pockets, cup holders and nooks and crannies. Vacuum the seats, floor and even the trunk. Get a good quality (and pleasant smelling!) odor remover to help eliminate any foul or lingering smells in your car. Clean the windows and do some dusting around the dashboard and computer system. Choose some car paint to help you take care of minor scratches. You may also want to try a rubbing component or scratch remover to remove them. Factory matching touch-up paint is your friend, so you use it to eliminate any unsightly issues your old car may have. Essentially, make it look as good as new when you take it into the dealership.
Of course, not every car can be "fixed" with a couple paint touch-ups. If your car is worse for the wear, and has stains on the upholstery, oxidized paint and other issues you just can't fix by yourself, you may want to take your car to a professional detailer who can take care of those things before you take it to the dealership. This comes with a hefty price tag because they have all the necessary cleaning tools and equipment, but you'll appreciate it later when you get more for your vehicle. While it certainly won't double the value of the vehicle, it will greatly increase it and you'll more than likely recoup the cost of the detailing with the trade in.
Do not try to cover up things like rust, malfunctioning drivetrain or electrical components, or high mileage. If you've been in an accident these things will show up on a car history report anyway, not to mention, if you expect the dealership to be honest with you, you need to be honest with them too.

Avoid Game Playing
While some dealerships know better, there are still unscrupulous car dealers who like to play game with potential buyers. They will toss the keys on the roof of the car so you can't leave until you purchase a new car. Before you even know if you're dealing with a bad salesman, don't surrender your keys. It's always a good idea to have two sets of keys when trading in your vehicle for this very issue as well as for the convenience of the sale. Dealerships and eventual car owners like to have more than one set of keys to their vehicle.
Another way to avoid game playing is to make phone calls before you go. If you get a negative impression on the phone than don't even bother going to the dealership to do business with them. There are plenty of great dealerships out there who will treat you well and give you the best deal possible for you vehicle without playing games. You should always feel comfortable walking away. You do not owe the salesperson anything even if they have spent a lot of time with you. Even if the dealership you're with feels comfortable, you may want to check out other dealerships to see what they can offer you. It never hurts to get a second, third or fourth opinion.
Don't Mix Negotiations
Avoid mixing the negotiating of the value of your trade-in with the price of a new vehicle. It's important to know that the value the car you are trading in has absolutely nothing to do with the price of a new vehicle. Do not let the dealership convince you otherwise.
When you settle on a price you agree with for your trade in, you will need to have your salesperson write that price into your new vehicle contract so you get some credit for the new car you're buying. It's good to know that if you are doing a trade-in in San Diego, California only charges sales tax on the difference between the new vehicle's cost and your trade-in's value. This is typically the case in most states but you will need to check with your dealer.
Be Prepared to Walk Away
It's okay if you and the dealer cannot agree on a trade in price. Simply take your car elsewhere. Shop it around at other dealerships or even sell it yourself privately if you have the time to do so .Sure, you may get more by selling your car yourself, but as you can see, trading your car in definitely has its benefits. You can get a new car and sell the old one in the same transaction, you don't have to park your used car on your lawn waiting for someone to call. Meeting with strangers and trying to coordinate schedules to do test drive and evaluations can be a huge headache. We have great post on the pros and cons of selling yourself and trading in.
Another Way to Get More for Your Trade
There is another way to get more for your trade. It is called Driveo. Driveo is just as easy as trading your car in but you will get more money for your trade. We will even go as far as saying that Driveo is easier and better than trade in because all it takes to get a quote is to fill out a short form online. Simply tells us about your car and get your quote in minutes. Learn about why Driveo is better than trade in.