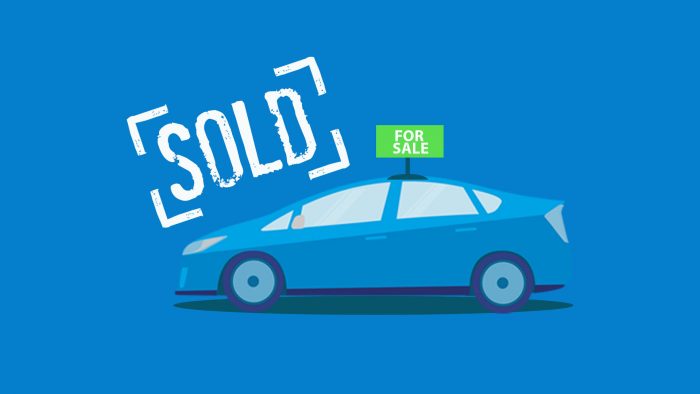 When you're selling your car privately, you may not have thought much about the process and everything it involves. In addition to getting the car ready to sell, writing ads, posting ads, and responding to inquiries, you'll eventually be meeting up with prospective drivers, and most of them are going to want to take the car for a test-drive. After all, would you want to buy a car without test-driving it first? When it finally it sinks in that you'll be handing over your car keys to a complete stranger, it can feel a bit daunting. Although it is a normal part of selling your car, how you handle this part of the process can make all the difference to reaching the finish line smoothly or with a lot of stress and frustration.
We've conducted thousands of test-drive appointments ourselves, and although it's a somewhat different process at a dealership, we sat down with our team of experts and went through every detail of the process as if we were selling a car privately. It was a great exercise to go through and we thought of all kinds of things that would help you when selling your car privately. In fact, we feel like the process we came up with is so good that we've branded it. We call it the Failsafe Test Drive Appointment Plan or FTDA Plan for short. Read on to find out what is involved in each of the five steps and how this approach can help you right now when selling your car privately.
---
Step 1: Setting a Test-Drive Appointment Time when Selling Your Car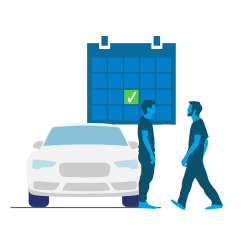 When you get inquiries from prospective buyers, you'll quickly find out which ones are serious and which ones are not. If you can't tell how serious they are, qualify prospective buyers by moving the conversation towards setting up a test-drive appointment. Doing this will help weed out non-serious buyers. You can also ask them other questions that will help identify if they're serious or not, such as the following: What is your time-frame for making a decision on buy the car? How are you planning to pay for it? Do you feel you'll be in a position to move forward after the test drive? You want to do this in a way that helps guarantee the person will actually show up. You don't want to waste time with no-shows. In the car-selling business, we call this "appointments that show," and it applies just as much to you when selling your car privately as it does to any dealership. Here's how to go about setting up test-drive appointments:

Create a sense of urgency
You want to get a good price for your car and you want to sell it as quickly as possible. If you've set a good competitive price, try creating a sense of urgency. Once you've fielded a couple of inquiries, you can say something like this: "Yes, the car is still available, but at this price it's not going to last long." This helps spur the prospective buyer to take the desired action, which is to set a definite appointment time to see the car and test-drive it. Once you've shown the car to at least one person, you can try saying this: "I've been showing the car but haven't promised it to anyone yet, so if you'd like to take a look we'd better do it sooner than later because I might get an offer at any time." Once again this creates the feeling in prospective buyers that the car is in demand and they'd better move quickly to see the car for themselves.
Offer several appointment times
Be very specific about when you're available to show the car and have them test-drive. You want to show that you're in the driver's seat for this whole process, even if you won't be during the test-drive itself. Try something like the following: "This coming Saturday I have several people who will be looking at the car, but I could fit you in at either 11 in the morning or 1:30 in the afternoon." Noting that other people are actively looking at the car will create even more urgency on the part of buyers, and set the stage for getting the price you want. If the specific days/times you offer don't work for them, let them offer a specific day/time and see if it works with your schedule. Either way, you want to end up with a firm day and time for a test-drive appointment.
Recap the appointment details
Most people don't do this final step, but it's a really important one that greatly increases the likelihood of the person showing up for the appointment. Try something like this "Okay, (prospect's name), just to recap: We're going to meet at (place – be sure to read the next step about where to meet) at (time) on (day) so you can take a look at my car and give it a test-drive. I'll make sure it's ready to go so we can get started right away. If I end up selling the car to someone else before then, I will be sure to let you know so you don't waste your time making an unnecessary trip. And if something comes up for you and you can't make it, please let me know as well."
Now that you know how to go about setting up a test-drive appointment in a way that helps ensure the prospective buyer will show up, you'll also want to make sure you conduct the appointment in a way that keeps you safe.
---
Step 2: Protect Yourself by Conducting Safe Test-Drive Appointments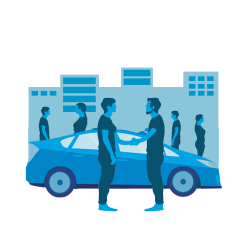 The idea that you could be putting yourself in danger when selling your car privately is an unsettling thought, but it is an important thing to consider and plan for. Although it's rare for bad things to happen, you don't want to take any unnecessary risks. Keeping yourself safe is as easy as taking the several extra precautions we outline below:
Find a safe meeting place
You should never give your home address as the place to meet with prospective buyers. This may seem obvious if you've read about some of the awful things that have happened to people (you can read about one recent incident here), but you'd be surprised how many people don't even think this through. Where should you meet? You want it to be a very public place where lots of people are around all the time. Never meet anyplace that feels isolated or deserted, and keep your appointments to daylight hours. Ideally, it should be the parking lot of shopping center that you know is under video surveillance.
Prepare your car for a test-drive
Besides making sure your car is super-clean and has plenty of gas, the safety aspect of this one is to remove any valuables from your car before going to the appointments. The fewer temptations that are present, the better. This is also a good time to double-check your automobile insurance policy to make sure you're covered when other people drive your car. That's usually the case, but it's good to make sure. Whatever you do, don't cancel your insurance in anticipation of selling the car. You'd be surprised how many people do this, and it's a mistake you don't want to make! In fact, it's a good idea to verify that any prospective buyer who is test-driving the car also has their own active car insurance policy, just to be on the safe side.
Use the buddy system
Never meet prospective buyers by yourself. Ask a friend or family to come with you. People who have something dangerous in mind will be deterred both by the public setting as well as you having someone with you. The person you bring with you doesn't have to go on the test-drive with you. The can do some shopping during the test-drive as they also hold onto a key document (the reason for this will be explained in the next step). Make sure you have your mobile phone with you during the test-drive so your buddy can check in and make sure all is well. If for some reason you can't arrange to have a friend or family member with you for the appointment, be sure you notify someone of where you'll be and how long you plan on spending with the prospective buyer.
---
Step 3: Set the Rules of the Road with the Prospective Buyer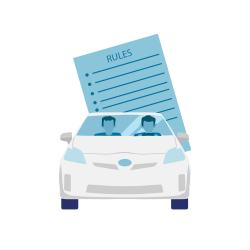 It's important that you maintain control over how the appointment proceeds, and there are a number of things you can do in this regard to lay down the rules of the road for test-drive appointments when selling your car privately. Follow these guidelines:
No solo driving
Make it clear that you want to ride along during the test-drive. Besides making sure your car doesn't disappear, this will give you the chance to answer any additional questions the prospective buyer has about the car as well as for you to highlight the things you think are unique selling points and features about the car you've most appreciated.
Snap a photo of their driver's license
Use your mobile phone to take a picture of the person's driver's license and send it to the friend or family member who is staying behind while you go on the test-drive. This is your own little insurance policy in case anything goes wrong, and shows the prospective buyer that you're serious about engaging this process safely. As you take your snapshot of the license, look it over to make sure it's a normal license with their name, address, data of birth and photo on it (and see if the photo seems accurate). This may all seem like a lot of hassle, but it's a small price to pay to avoid any potentially dangerous scenarios.
Agree on the route of the test-drive
Lay out a route for the test-drive that allows the person to see how the car handles on local streets with various levels of traffic as well as a little highway time. The test-drive only needs to be about 15 minutes, and certainly less than 30 minutes. That's more than enough time for the person to get a good feel for the vehicle. Although we shouldn't have to say this – wear your seatbelt during the test-drive. If the driver seems to be driving recklessly, tell them firmly to be more careful.
Decide if you will let them drive your car
Spend some time before doing the test-drive walking around the car and talking to the prospective buyer. This is your chance to point out what you like about the car and a chance for the buyer to ask you questions. As you interact with the buyer, pay attention to what your instincts are saying. If anything seems strange or suspicious about the person, you do not have to let them drive your car. Sometimes you just get a vague feeling that something's not right. Make a polite excuse and leave.

Get your keys back at the end of the test-drive
When you've pulled back into the original meeting place at the end of the test-drive, make sure the driver hands you the keys before you get out of the vehicle. It's a very old trick that still gets used – the driver gets you to exit the vehicle and then takes off in it.
By taking these simple extra precautions, you should encounter no danger during test-drive appointments. Before and during test-drives, it's important that you pay attention to what you say about the car in order to protect yourself legally, which is what the next FTDA step is all about.
---
Step 4: Watch What You Say During the Test-Drive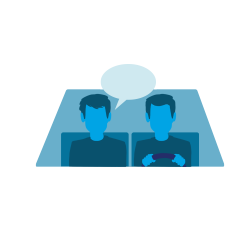 As you chat with the prospective buyer during the test-drive (as well as beforehand and afterwards), pay attention to the kinds of things you say. Of course, you want to mention everything that has been great about the car for you, but just remember to be honest about any flaws or faults as well. If you're not careful about what you say, you could find yourself confronting a fraud claim after you've sold the vehicle to the buyer.
Be clear that the car comes "AS IS"
This is usually the assumption when selling your car privately, but it's worth mentioning it and being clear about it. It's a used car after all, so it's not perfect, and you don't want to be accused of being dishonest.
Honesty is the best policy
Be totally up-front and truthful about the condition of the car. If you lie about anything, it could easily come back to haunt you if the buyer decides they're unhappy with car and demand that you do something about it. If the car needs brakes, say so. If it was in an accident once upon a time, mention that and what you did to get the car back into good repair. If you leave out a major piece of information like these, what some refer to as a "material fact," you could find yourself in hot water. Even if you didn't lie about it, just failing to mention something significant can become a real headache for you. Give as complete and accurate a picture as possible of the car's history and condition.
Do a trial test-drive with a friend
If you want to really be ready to make the most of each test-drive appointment with prospective buyers, conduct a mock test-drive where you have a friend act as the prospective buyer. You'll be surprised at how much an eye-opening experience this can be. They will ask lots of questions, many of which you might not have given much thought to before now, such as the following: What included upgrades or modifications have been done? Do you have maintenance records? Do you have a vehicle history report? Is there any existing warranty information? What significant repairs have been done, if any? If your friend can really adopt the attitude of a shrewd prospective buyer, you'll learn a lot from this exercise.
Now that you know how important it is to be truthful and up-front about your car to prospective buyers, it's time to discuss how to handle wrapping up a test-drive appointment.
---
Step 5: Don't Feel Pressured to Close the Deal at the End of the Test-Drive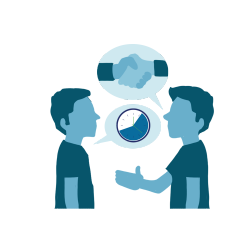 After you've concluded a safe, successful test-drive appointment, the prospective buyer may be anxious to close the deal as soon as possible. If that's fine with you, go for it, but keep the following in mind:
If the buyer gets aggressive, walk away
The prospective buyer may make you an offer that's substantially lower than your asking price, which you will politely decline if it's too low. If you're absolutely firm on your price or only have a little room to drop the price, clearly state what your final acceptable price is. If the prospective buyer becomes aggressive or intimidating, thank them politely and walk away. There will be plenty of potential buyers and you should not tolerate any situation or person that makes you feel even slightly uncomfortable.
If the buyer offers immediate payment, be careful
A buyer who's ready to immediately pay for the car at a mutually agreeable price is a trickier situation. If they're writing you a personal check, there's no guarantee that it's going to clear. See what bank the check is drawn on. If there's a branch of the bank not far away, tell the buyer you'd be happy to close the transaction at their bank. The bank upon which the check is drawn has to cash it for you if the buyer's account has sufficient funds to cover it. If the buyer offers you cash, ask them to accompany you to the nearest branch of your bank so the transaction can be verified and the bank can check to be sure the bills are not counterfeits. For more information on how to safely accept payments when selling your car, read [link to appropriate article].
Trust your gut instincts
You are under no obligation to sell your car to any specific person. You've spoken or emailed back and forth with a prospective buyer and just spent time with the person during a test-drive appointment. What is your gut telling you about this person? If anything seems "off" or suspicious or makes you uncomfortable, you don't have to move forward with this person.
Selling your car privately involves a lot of work. It's a process that can either go smoothly or go very badly depending on how you handle each aspect, from getting your car ready to sell it, writing and posting ads, and fielding inquiries. But one of the most critical steps in the process is when you start meeting up with prospective buyers for test drive appointments. We feel this step is so important that we've come up with what we call the five-step FTDA Plan – the Failsafe Test Drive Appointment Plan. Following the steps that we've laid out for you in this article will go a long way towards making sure your test drive appointments are both safe and successful. Of course, there are still no guarantees that you'll get the outcome you want, but your chances of reaching the finish line of selling your car privately will be greatly increased.
When you fully realize how much time and effort it takes to safely and successfully sell your car privately, it might make you have second thoughts about putting yourself through what is often a very stressful process, no matter how much careful planning you put into it. If you'd rather not go through with it, consider the Driveo alternative. We have bought thousands of cars because we make fair offers in a surprisingly fast and completely transparent process. Find out more about our process or get a rapid online quote in minutes that will be good for 30 days. You'll be pleasantly surprised at how easy it is to cruise in and cash out at Driveo!